Med bevidsthedsudvidende virkning
Psykedelisk:

noget som forandrer (beriger) sindets virkelighedsopfattelse, hallucination.
Når man ikke har sovet i mere end et døgn, været anstrengt af spænding og strabadser, så sker der nogle gange noget med virkelighedsopfattelsen og man ser verden gennem et underligt uvirkeligt filter.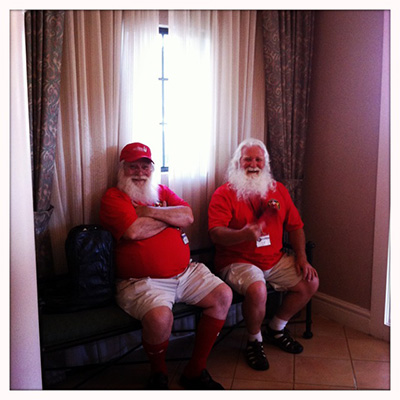 Derfor måtte jeg knibe mig selv i armen gentagne gange, gnide øjnene, ryste på hovedet og sove på det. Men nej, de var der stadig: de 80 mænd med langt hvidt skæg og hår i lobbyen på hotellet i Denver, Colorado. En dag i juli måned.
Vi ankom direkte fra lufthavnen efter en lang lang rejse – jetlagged og udmattede, og i den forholdsvis lille reception, stod vi som sild i en tønde midt i julemandsforeningens sommer-seminar. 'We're here to learn more about being nice to kids' kværnede de på det bredeste amerikanske.
Er verden ikke utrolig og fantastisk?
Jeg er stadig ikke kommet mig over oplevelsen. På den gode måde.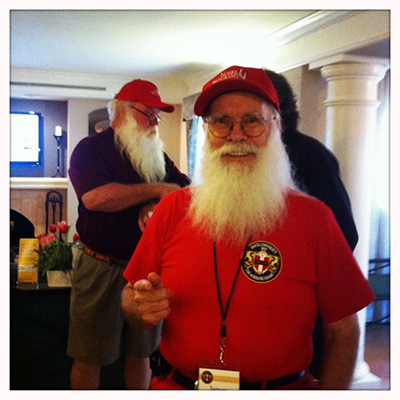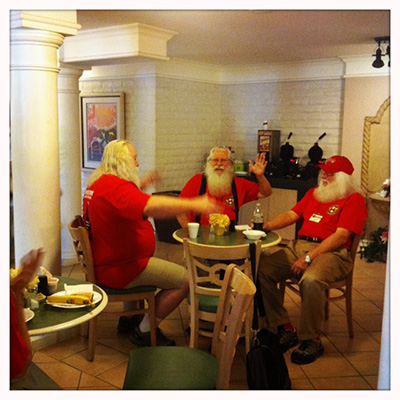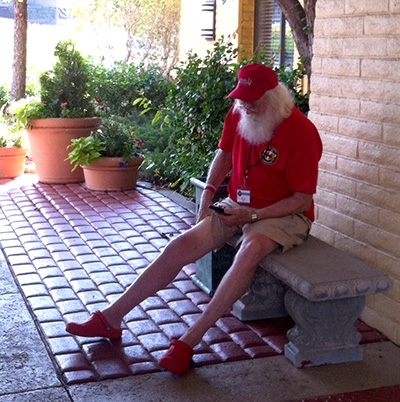 Santa tjekker mobilen iført røde clogs!
---
---